Heat Index (definition)
The Heat Index, sometimes referred to as the apparent temperature, is a measure of how hot it really feels when relative humidity is factored with the actual air temperature.
To find the Heat Index temperature, look at the Heat Index chart below. As an example, if the air temperature is 96°F and the relative humidity is 65%, the heat index (how hot it feels) is 121°F.
IMPORTANT: Since heat index values were devised for shady, light wind conditions, exposure to full sunshine can increase heat index values by up to 15°F. Also, strong winds, particularly with very hot, dry air, can be extremely hazardous.
The Heat Index Chart shaded zone above 105°F shows a level that may cause increasingly severe heat disorders with continued exposure or physical activity.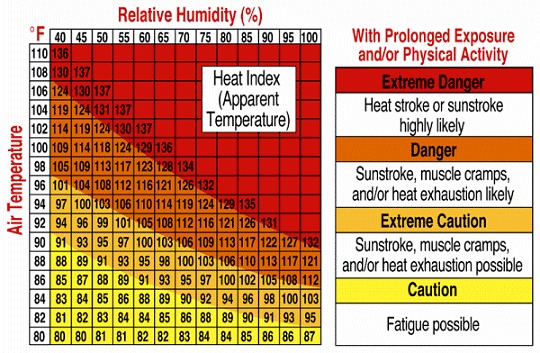 Courtesy of the National Weather Service , All Rights Reserved.
See all weather stations that measure Heat Index or return to the Weather Station Glossary of Terms