Shipping Options
Domestic Shipping Options
Ambient Weather now offers free 3-day domestic express shipping on all orders from Chandler, AZ and Boothwyn, PA.
Ambient's primary carrier is the United Parcel Service (UPS). Ambient ships throughout the USA. All shipments are insured.
In general, all products ordered express delivery before 11 am Arizona Time are shipped the same day, unless specifically specified on the product webpage.
In general, Ground orders leave the warehouse in one business day, unless specifically specified on the product webpage. In general, APO and FPO orders leave the warehouse in 1-2 business days, unless specifically specified on the product webpage.
Shipments are based on "business days". Weekends, UPS holidays, and ship days are not counted as business days. For example, if you order 3rd Day Select on a Thursday morning, your package will not arrive until the following Tuesday (Friday, Monday and Tuesday counted as business days).
UPS holidays will be noted on the checkout page.
Ambient Weather and UPS are not responsible for delays due to adverse weather conditions or other acts of God or other natural disasters.
On occasion, Ambient Weather ships directly from the manufacturer or a distributor. The manufacturer or distributor may choose a different courier than UPS.
Your order may also be delayed if there is an issue with the credit card name and address security confirmation.
Paypal requires a signature on ALL orders over $200. Ambient may require a signature for delivery on any order regardless of value or payment method. Unless previously authorized.
Due to unreliable service and delivery, Ambient does not ship to hotels, motels, or suites including instances when the address may be "Confirmed" by Paypal.
Email confirmation of your tracking number is sent directly from UPS. The title of the Email is "Quantum View". In general, this occurs in the evening.
Your credit card will not be charged until the day the product ships unless it is shipped directly from the manufacturer, in which case, it is charged when the manufacturer receives the order.
Ground Shipping Map from Phoenix, Arizona: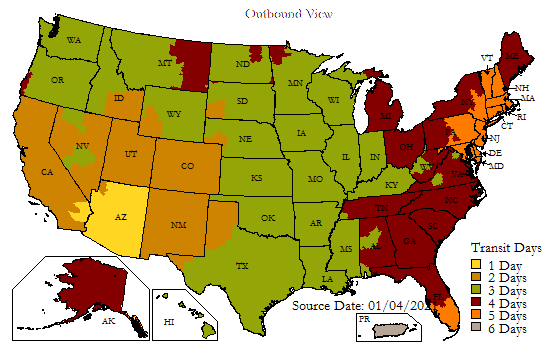 ---
International Shipping Options
Free Express shipping does not apply to International Shipments.
Ambient ships into most countries that we are legally permitted to ship to and we offer most of UPS' shipping method.
Ambient works with a company called Zonos for international shipments. Zonos is a third party that allows international customers to pay in their own currencies, quote duties, taxes and fees before placing an order and often times give an option for "Guaranteed Total Landed Cost! - No additional taxes or duties will be applied to your order.". This guarantee is order by order and only applies if the service through Zonos offers it.
For non- Zonos orders:
UPS Standard to Canada, customers will be responsible for: brokerage, bond fee (up to $10/shipment), duty and taxes. Ambient's customers will be able to take advantage of Ambient's negotiated Brokerage rates in the table below.
Worldwide Expedited, brokerage is included with the shipping fee. Customers are responsible for: bond fees (up to $10/shipment), duty and taxes.
*Please note, some international shipping addresses are charged additional fees such as extended area, address surcharge, etc. Ambient may not be aware of these fees until creating the shipping label. In this case, Ambient will contact the customer for pre-approval and payment before shipping the order.