It's no secret that family life can be hectic, but dealing with unexpected home issues only adds to the stress. With these four smart home sensors installed in your house, you'll never have to worry about things like temperature levels or leaks again! Boost the intelligence and security of your home with Ambient Weather's Indoor Home Monitoring Sensors. These aren't your typical gadgets - they measure everything from humidity levels to lightning detection. Best of all, each one can be monitored with our Ambient Weather app and IFTTT compatible devices.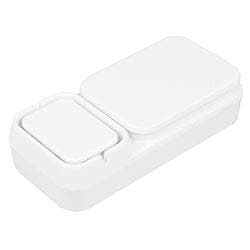 Do you constantly worry about basement leaks during a storm or the aftermath of a water heater failure? Through everyday use, appliances in your kitchen, bathroom, or basement can shift, loosening valves and pipes that can lead to leaks. You can put your mind at ease with an Ambient Weather WH31LA Leak Detector. The sensor can be used as a stand-alone water leak detector. Place the sensor on the floor to check for water every 3 seconds and, when a leak is detected, a loud 90 dB alarm sounds. Connect it to a WS-2000 or WS-5000, and the leak detection will send an alert to the console and cloud for instant email, text, or IFTTT triggered event. Add up to four leak detectors to your Ambient Weather station.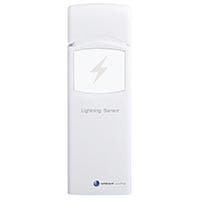 Lightning strikes can provide an advanced warning about approaching storms way before thunder is even heard. Whether you need to protect outdoor equipment from storm damage or keep family and pets safe, the Ambient Weather WH31L lightning detector is a convenient add-on sensor to help determine incoming storm fronts. The sensor not only detects the electromagnetic pulse (EMP) emitted from a lightning strike, but it's also able to estimate how far away that event occurred based on its strength. Through the application of electronics and software, personal lightning detectors such as the WH31L identify storm activity within a 25-mile range (40 km) of your location. The sensor transmits this information once every 79 seconds to the display console and our cloud platform, ambientweather.net. The WH31L requires an Ambient Weather WS-2000 or WS-5000 weather station and is not a stand-alone sensor.
3. The Ambient Weather WH31P Water-Proof Probe Temperature Sensor (Compatible with WS-1550-IP, WS-2000, WS-2902B, WS-2902C, WS-3000, WS-5000, and ObserverIP Series Weather Station)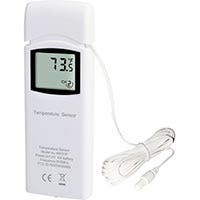 The Ambient Weather WH31P is an excellent product for those who need to keep their refrigerators, freezers, and aquariums at a consistent temperature range. This weather sensor can also be used outdoors in various settings such as gardens or pools. The remote sensor includes a 10-foot waterproof probe and is ideal for measuring any wet temperature medium, including water and soil. With a low thermal mass, it responds quickly to temperature changes. Just place the WH31P probe on top of the surface area or in the water for accurate readings. While the sensor will work as a stand-alone unit, the data is only viewable on the sensor screen. We recommend connecting the WH31P to one of our compatible weather stations to take advantage of a full suite of measurements, remote monitoring from the Ambient Weather App, and connection to other smart devices such as Google Alexa.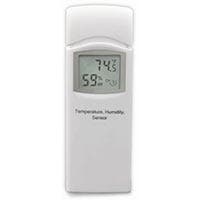 Managing ideal humidity and temperature should be a priority for every homeowner, especially if you have rooms with wine cellars, humidors, art collections, house plants, or a baby or children's room that could be affected by environmental changes. The Ambient Weather WH31E Wireless Temperature and Humidity Sensor is an excellent addition to your home, providing temperature and humidity data that can help set up the proper environment for your family and hobbies. Place the sensor in an area of concern, then view/upload the accurate readings to our cloud hosting service at AmbientWeather.net via one of our compatible weather stations. Like the WH31P Temperature Sensor, the WH31E sensor can be used as a stand-alone, but it is not recommended as you will lose the capability to monitor conditions and receive alerts remotely.
Home security and convenience are two of the most important advantages of a connected home. These four smart sensors from Ambient Weather can provide you with peace of mind knowing your home and its inhabitants are protected and comfortable. If you're looking to upgrade any part of your current system, we have a full line of indoor home monitoring sensors .
Don't have a weather station? Check out our weather station comparison guide to help you find the best option for your needs.