Ambient Weather Falcon WS-8480 Fan Aspirated Smart WiFi Weather Station with Remote Monitoring and Alerts
The Ambient Weather WS-8480 Professional Weather Station allows you to monitor your home and backyard weather conditions with a sizeable high-quality display and a daytime fan aspirated radiation shield. Monitor indoor and outdoor temperature, humidity, barometric pressure, rainfall, and more! The enhanced WiFi connectable option enables your station to transmit data wirelessly to the Ambient Weather Network.
Availability:
Out of stock
If you have always wanted to monitor certain parameters of your property or home and love to keep an eye on the weather, consider the WS-8480 Smart WiFi Weather Station.  The aspirated fan makes this station ideal for weather enthusiasts in hot weather climates where temperature accuracy is paramount.
The weather station measures wind speed, wind direction, rainfall, outdoor temperature and humidity, solar radiation, and UV, while the console measures temperature, humidity, and barometric pressure. The console also displays Feel Like temperature, moon phase, and a barometric pressure-based forecast.
Add up to 7 thermo-hygrometers, floating pool and spa sensors, soil moisture sensors, and temperature sensors to track and monitor conditions in and around your home.
The Sensor Array
The outdoor sensor array is solar-powered and charges a super capacitor. Back-up batteries provide power at night and extended periods of darkness. The projected battery life is 2-3 years with high-quality lithium or alkaline batteries.
The Indoor/Outdoor Thermo-Hygrometer
The WS-8480 also includes an indoor sensor that monitors temperature and humidity anywhere inside or outside your home. The TX-3110B wireless outdoor thermo-hygrometer passes data through to your WS-8480 console. It will support both imperial and metric units of measure.

Connect to the Ambient Weather Network
Send real-time data to the Ambient Weather Network and monitor your data across different platforms. Our mobile app and desktop version allow you to customize your dashboard, analyze graphs, generate reports, and send an email or text alerts. Visit AmbientWeather.net or download the Ambient Weather app on iOS or Google Play Store to create your account.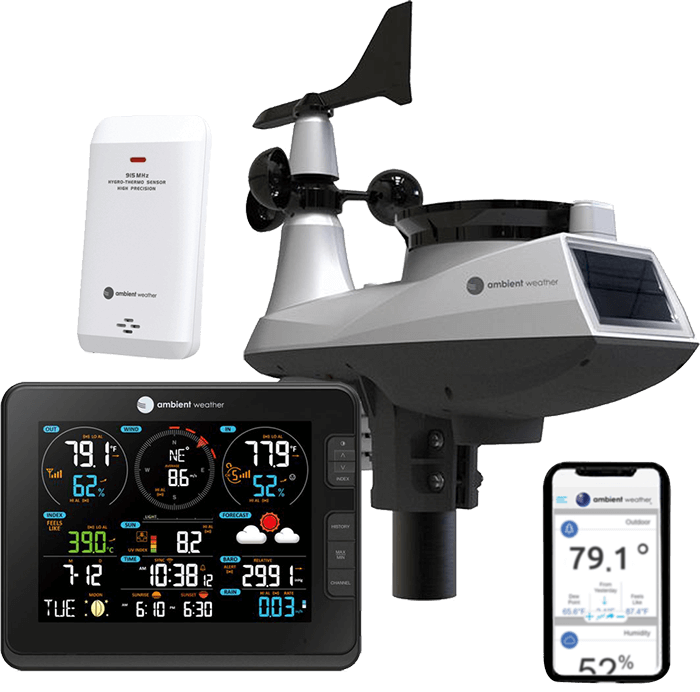 Features Email and Text Alerts, IFTTT and API Support
We provide customers with a way to utilize weather instruments and data beyond viewing basic weather measurements. Our products integrate into your existing smart home products and allow you to create a more connected home. You can connect any of our IFTTT- enabled stations and sensors to your favorite products already in your household, such as Amazon Alexa, Google Home, NEST, Rachio Sprinklers, Hunter Douglas Blinds, and more! In addition, we have a powerful API for programmers.
Our email and text alert feature allows you to set alerts for high and low conditions for every parameter or send multiple alerts for the same parameter. Features a handy timeline for tracking alert history.
Add up to seven sensors to match your measurement needs
Mix and match up to 7 optional thermo-hygrometer sensors, soil moisture-temperature sensors, or pool and spa thermometers. View your sensor data on your personal weather dashboard on AmbientWeather.net
Connectivity
The weather station console includes two levels of wireless connectivity. The sensors connect to the console via RF (915 MHz), up to a 300 ft line of sight (100 ft in most conditions). The console connects to your router via WiFi RF (2.4 GHz) in the open air up to 80 ft.
Weather Features

Dew Point

Forecast (Pressure Based)

Heat Index

Humidity

Rainfall

Relative Pressure

Soil Moisture

Soil Temperature

Solar Radiation

Temperature

UV

Wind Direction

Wind Speed

Wind Chill
---
Weather Services

Ambient Weather Network

Weather Underground

PWS Weather

Amazon Alexa

IFTTT

API
---
Weather Specifications
Indoor
Temperature Range: -4 to 140 °F (with alkaline batteries), -40 to 140 °F (with Lithium e2 Energizer batteries)
Temperature Accuracy: 131 to 140°F: +/- 0.9°F (55 to 60°C: +/- 0.5°C),
50 to 131°F: +/- 0.7°F (10 to 55°C: +/- 0.4°C),
-4 to 50°F: +/- 2.3°F (-20 to 10°C: +/- 1.3°C),
-40 to - 4°F: +/- 3.4°F (-40 to -20°C: +/- 1.9°C)
Temperature Resolution: 0.1 °F
Humidity Range: 0 to 100%
Humidity Accuracy: 0 to 90% RH +/- 2.5% RH @ 77°F (25°C), 90 to 100% RH +/- 3.5% RH @ 77°F (25°C)
Humidity Resolution: 1 %
Outdoor
Temperature Sensor Range: -4 to 140 °F
Temperature Accuracy: 131 to 140°F: +/- 0.9°F (55 to 60°C: +/- 0.5°C),
50 to 131°F: +/- 0.7°F (10 to 55°C: +/- 0.4°C),
-4 to 50°F: +/- 2.3°F (-20 to 10°C: +/- 1.3°C),
-40 to - 4°F: +/- 3.4°F (-40 to -20°C: +/- 1.9°C)
Temperature Resolution: 0.1 °F
Humidity Range: 0 to 100%
Humidity Accuracy: 0 to 90% RH +/- 2.5% RH @ 77°F (25°C), 90 to 100% RH +/- 3.5% RH @ 77°F (25°C)
Humidity Resolution: 1 %
Barometric Pressure
Barometric Altitude Range: -2288 to 16,416 feet (-697 to 5000 meters), Barometer Range: 15.94 to 32.48 inHg (540hPa to 1100hPa)
Barometric Pressure Accuracy: 20.67 to 32.48 inHg: +/-0.15inHg (700 to 1100hPa: +/- 5hPa), 15.94 to 20.67 inHg: +/- 0.24inHg (540 to 700hPa: +/- 8hPa)
Barometric Pressure Resolution: 1hPa / 0.01inHg / 0.1mmHg
Solar Radiation
Solar Radiation (Light) Range: 0 to 200,000 Lux
Solar Radiation Resolution: 1 Lux
UV
UV Range: 0 to 15
UV Accuracy: 1
UV Resolution: 1
Rain
Rain Range: 0 to 787.3 in (0 to 19999mm)
Rain Accuracy: ± 7%
Rain Resolution: 0.01 in
Wind
Wind Direction Range: 0 - 360°
Wind Direction Accuracy: 1°
Wind Direction Resolution: 1°
Wind Speed Range: 0 to 112mph (50m/s, 180km/h, 97knots)
Wind Speed Accuracy: +/- 10%
Wind Speed Resolution: 0.1mph, 0.1m/s, 0.1km/h, 0.1knots
Other Specifications
Power
Display: 3 x AAA Alkaline Batteries (not included)
Display: DC 5V, 500mA 100-240V 50/60 Hz UL rated Class 5 adaptor
Indoor Thermo-Hygrometer Sensor: 2 x AA Alkaline batteries (not included)
Outdoor Sensor Array: 3 x AA Alkaline batteries recommended, Lithium e2 Energizer for cold weather
Outdoor Sensor Array: Solar Panel
Weight
Console: 1.3 lbs (590 grams) with batteries
Sensor Array: 2.4 lbs (1096 grams) with batteries
Indoor Sensor: 0.32 lbs (144 grams) with batteries
WiFi
WiFi Specifications 802.11b/g/n
WiFi Display Tablet RF Frequency: 2.4 GHz
Misc.
Time synchronize method: Synchronized through internet UTC time server
Console Temperature Limits of Operation: 23 °F to 122 °F (-5°C to 50°C)
Pole Mount diameter: 1.2" minimum, 1.8" maximum (pole not included)
Visit our support page for FAQ's and more.